Radiographs
The staff at Brighton Animal Clinic can do both PennHip and OFA radiographs. When making an appointment for either of these types of radiographs, please remember to bring a copy of your AKC registration as that is needed for the paperwork.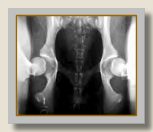 The Brighton Animal Clinic Staff feels that this form of radiograph and evaluation is the answer to ending the terrible hereditable disease of hip dysplasia. Dr. Chad Martin, Dr. Jake Fernandez and technician Jami Revier are certified to take PennHIP radiographs and can provide this service Mon-Fri mornings. For more information visit the PennHip.
---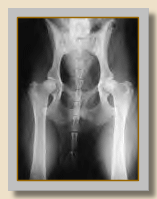 OFA hip radiographs are also taken at Brighton Animal Clinic and can be done without anesthetic if requested. Orthopedic Foundation of America (OFA) Hip and Elbow radiographs can also be done at the clinic. We will make every effort to take these radiographs without anesthesia if the dog will allow it. For more information visit the OFA site.
---
Ultrasound
The Brighton Animal Clinic can perform ultrasounds primarily for pregnancy diagnosis. Diagnosis of pregnancy in bitches at 28 to 30 days of gestation is recommended for best estimates of numbers of puppies the bitch is carrying. Ultrasound is an excellent tool to use to diagnose pregnancy as well as monitor the fetuses during pregnancy in bitches that have a history of resorption. We have also successfully managed open pyometras and infected uterus with the aide of ultrasound and prostaglandin therapy.